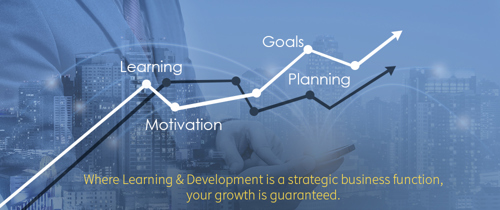 At L&T, Learning & Development is a strategic business function contributing significantly to organisational, group and individual effectiveness & growth by fostering a strong learning culture.
A culture of continuous learning and development exists through structured core developmental programmes, conducted by reputed institutions for employees to develop superior management skills and capabilities.
A host of strategic and behavioural programs are also conducted to address specific training and developmental needs of employees as a result of Performance Orientated Development Plan (PODP)
We also have forums where eminent speakers/ technologists from Industry address employees on Technological advancements and future trends in engineering, space and technology.
Core Development Programs (CDP):

Week-long Management Education with reputed institutes.

Long-term Company-Sponsored educational programs:

Management Pograms:

Executive MBA with IIM Ahmedabad (IIMA)
Post Graduate Executive Management Program with SP Jain Institute of Management and Research (SPJIMR)

Engineering Programs:

M.Tech. program with IIT Bombay (IITB)
Ph.D program with IIT Bombay (IITB)
B.Tech. program - Work Integrated Learning Programme (WILP) with BITS Pilani
M.Tech. Program with DIAT Pune
Ph.D program with DIAT Pune

High value inputs for budding Leaders by engaging in tie-ups with Institutes of Reputee
Development Centres (DC) for Leaders in Managerial roles
Technology Leadership Program (TLP) for Leaders in Technical roles
Leadership Development Programme (LDP) for budding Leaders

Certification & Non-certification programs on Engineering, Foreign Languages, Management, etc. on Any Time Learning (ATL) portal
Performance Oriented Development Program (PODP) - rolebased programs
Centre of Execellence(COE) programs for Improvement Initiatives
Specialised programs on Project Management in association with L&T Institute of Project Management (IPM)
External Training Programs: Functional & Behavioural program/ conferences/ workshops